RESIK
X-Ray Spectrometer
Institutions:
Space Research Centre, Polish Academy of Sciences, Wroclaw, Poland
Rutherford Appleton Laboratory, UK
Mullard Space Science Laboratory, UK
Naval Research Lab. Washington D.C. , USA
Institute of Terrestrial Magnetism, Ionosphere and Radio Wave Propagation, Troitsk, Russia.
---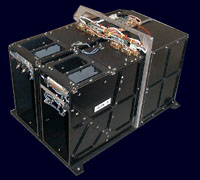 Scientific goals
Basic scientific goal of the RESIK experiment is high-resolution Solar X-ray studies in spectrum lines of highly ionized atoms Ar, Mg, Si, S, Ca, Fe, K, Ni and in continuum. Specific issues of the investigation are
Determination of absolute and relative coronal abundance of elements with atomic numbers Z = 13-30.
Studies of variability of the coronal composition, investigations of possible solar cycle effects.
Investigation of ionization state of solar high temperature plasma component.
Verification of atomic theory for ionization balance calculations.
Investigation of possible local non-Maxwellian velocity distribution of electrons.
Investigations of the spectrum shape close to ionization limits of individual ions and relative intensities of higher members of H- and He- like resonance line series.
Technical parameters
The experiment is based on the X-ray spectrometer with bent crystals working in the following spectrum bands: 1.123 - 1.293 Å 1.274 - 1.442 &Aring, 1.436 - 1.630 &Aring, 1.653 - 2.029 &Aring, 2.154 - 2.445 &Aring, 2.480 - 3.043 &Aring, 3.369 - 3.879 &Aring, 3.821 - 4.326 &Aring, 4.960 - 6.086 &Aring.
Contact address
More detailed information, data access policy and cooperation opportunities can be obtained at this location:


;

; online weekly bulletin